The Best Casino Games for Xbox
Published: Monday, March 30, 2020Tagged: Gaming, Xbox One

The casino industry is expanding beyond the traditional computer experience. First, there was mobile functionality so you can play your favorite games on the go. Now, casino games are available on games consoles like Xbox so you have a wider range of games available.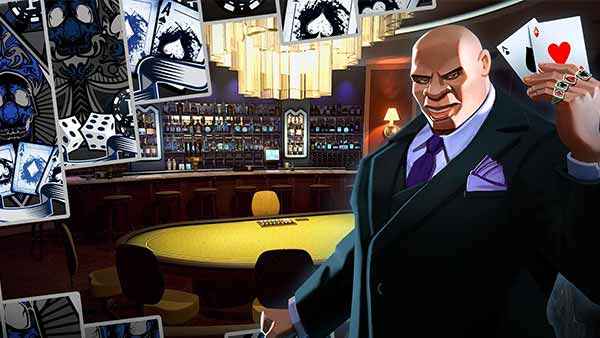 However, it's worth noting that the majority of casino games for Xbox don't actually require you to gamble with real money. This makes it a great way to have fun in your downtime or playing with friends. It also gives you a chance to try out different ways to play casino games before heading to an online casino and playing for real.
So with all this in mind, here are some of the best casino games for Xbox.
The Four Kings Casino & Slots
The Four Kings Casino & Slots game is the most well-known casino title for Xbox. Players experience a virtual 3D environment to enjoy a full of range of casino games, including the likes of roulette, blackjack, baccarat, craps, slots, bingo and video poker.
The Four Kings Casino & Slots is a product from Digital Leisure Inc and was released back in 2015. While it may be a few years old, it's still relevant in the console casino gaming space due to the frequent updates and innovations.
Create an avatar and take them to the tables for a more personalized experience. For example, you could create a cowboy character, complete with the classic gambler swagger or turn your avatar into a math whizz that looks like they know all the odds.
As you enter the game, you will join other players from all over the world. This element of international competition adds even more thrill to your game. Further, the graphics look good and the game actually plays very well, just as you would expect from a real casino.
As mentioned earlier, The Four Kings is one of the many games that does not support gambling for real money. Instead, it focuses on the social side. But that doesn't mean you won't be rewarded for playing. For example, there are plenty of ways to customize the way you play, something that you don't get the chance to do in an online casino - even in the live games. These extend to unlocking different customization options for your avatar.
Start at the low limit tables and work your way to the top of the leaderboard. As you play in the VIP section and with the high rollers, the top-ranked players receive exclusive rewards.
You can also just take your avatar to areas of the casino to chill and hang out with friends, such as the in-game bowling alley.
Now, as mentioned by Online Casino Gems, there has been a sharp rise in the popularity of casino games. But this covers a wide range of games. For those of you that don't want the full range and would rather play just play specific games, here are the best casino games for Xbox to suit your needs.
Pure Hold'Em is the best Texas Hold'Em game on Xbox. it has earned a 73 rating on Metacritic, showing how well this game performs commercially and to the critics.
VooFoo Studios is the team responsible for creating this great game and it allows you to play in both cash games and tournaments. It supports online multiplayer too so you can play with your friends online or against other poker fans from across the world.
All the action is played in a 3D environment so you get a great feel for the game. The graphics are great as they take you straight to the action, while the overall gameplay runs smooth, bringing in a good stream of players every time you hop on.
There are several ways you can make the game more challenging in the settings as you work your way up from a micro-stakes player to one of the most feared card sharks on the game.
The game also has add-ons available, such as decorating your chips or cards, to create your perfect poker game.
Prominence Poker is another great poker game to play on Xbox. It was created by 505 Studios who are responsible for other casino games like Full House Pro, a title that has been well received from by poker fans.
As suggested by the title, the game is set in Prominence, a dark town crawling with crooks and gangsters. This is a fitting environment as poker first originated in places just like this, before earning its respect from land casinos.
Create an avatar based on underground characters and play in the city's secret back rooms. You can customize your avatar from head-to-toe with all kinds of features and different clothing options.
Once you've created the perfect casino avatar, it's time to play heads-up poker against the game's four factions as you compete to play against "The Mayor" at the final showdown, with haunts like The Deck Casino, Kleaners Laundromat and Renegade Boker Bar providing excitement along the way. You have the option to play against the AI, but the most attractive feature of this game is playing the multiplayer mode.
Similar to other Xbox casino games, Prominence Poker is not played with real money - you only play for fun. It's free to download the base version of the game but you can buy extras like more chips and boosters.
The final casino game you must play is Super Blackjack Battle II Turbo. There are twelve avatars to choose from, each of which are modelled after Street Fighters.
Now, it's important to understand that the blackjack in this game is not like the traditional way to play ie each player individually playing against the dealer. Instead, Super Blackjack Battle II Turbo plays like a blackjack tournament, where the player with the biggest stack at the end of the final round wins.
This game features blackjack tables from casinos around the world. The graphics are detailed to create an authentic experience and the audio is appropriate for each stage of the tournament.
Single Player Combat is the most popular way to play this game; take your chosen fighter through a succession of rounds to become the champion.
Prominence Poker Achievements
Latest Prominence Poker News & Rumors
As more and more people wake up to the joys of playing casino games, the boom in the industry has even spread as far as the games console. For years the preserve of PC,...

As long as video gaming consoles have been around, casino-style games have been a popular choice among players. While Xbox has evolved over the years, like all other gaming...

Since its launch in 2017, Jackpot Poker has become one of the most popular poker games available on PC and Android devices. With quite literally hundreds of poker tables to...
Rate This Article
Average Score: 3



Votes: 1