"Star Wars Battlefront" Gamescom 2015 Fighter Squadron Mode Trailer Unleashed
Published: Thursday, August 06, 2015Tagged: Gaming, Xbox Store, Xbox One,

EA and DICE released the first gameplay for Star Wars Battlefront's Fighter Squadron Mode this week, giving all Star Wars fans their first chance to jump behind the sticks of X-wings, A-wings, TIE fighters, and TIE Interceptors and engage in aerial battles with up to 20 players.

Fighter Squadron is the ultimate Star Wars Battlefront game mode.

In Fighter Squadron you'll jump into the iconic ships of the Rebel Alliance and the Galactic Empire. Your team's objective is to destroy more fighters than the other team. If your team reaches the score limit of 200 kills or has the most kills when the time limit is over, your side wins! AI-controlled ships join the battles, giving players an intense, action-packed experience.

Featuring iconic Rebel X-Wings and A-Wings, as well as the dreaded Imperial Tie Fighters and Tie Interceptors, Fighter Squadron lets you engage in aerial battles with up to 20 players, and AI-controlled ships joining the fight.
But there's more than dogfights to worry about. As transport shuttles are being utilized by both the Rebels and Imperials, your job will be to either attack the other team's shuttle or keep yours out of harm's way. Expect intense fights over the transport shuttles and earn bonus points if you "take care" of them as your objective directs.
When you hit the cockpit, you'll use several offensive and defensive tactics. Your ship's laser cannons will rough up enemy targets and missiles will do a great deal of damage.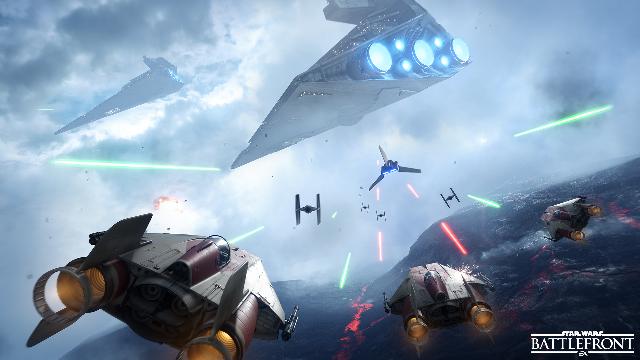 "Use your lock-on when you're on the tail of a foe," Forsman advises. "Then, fire off a missile when the time is right and hope for a deadly hit. Just remember to keep an eye on the cool-down period for your arsenal during your fights."
Each side also has a unique ship ability: Imperial ships can get from A to B in just a few, ahem, parsecs with their speed boost and the Rebels can activate a shield for when the going gets tough. Chased or outnumbered? Both sides can hit one of the evasive maneuver buttons to quickly shake off enemies.
If you want to give yourself and your team an edge, look for powerups located in key areas of the map. Often placed low and by challenging flight paths, these pickups are a bit tricky to reach but with bonuses like ship repairs or shorter missile cooldown they're definitely worth the trip.
Then there's that special powerup, the one that gives you a few minutes piloting the galaxy's most coveted starfighters.
"For the Rebels, the Hero starfighter is the Millennium Falcon. The Imperial team will get to pilot Slave-1, made famous by Jango and Boba Fett," Peter Forsman explains.
Apart from the thrill of taking control over these epic ships (hot tip: try out the cockpit view to fulfill that Boba Fett battle fantasy), Hero starfighters possess better attack and defense abilities. Learn where the pickups are located and you'll be a Fighter Squadron ace in no time.
Fighter Squadron is designed for all fans who ever wanted to dogfight in the skies with their favorite ships from the Star Wars universe. It's challenging and the aerial battles will require some skills, but Peter Forsman assures us that the mode will welcome all players:
"The fact that there are AI-controlled enemies that need to be taken down means that players who aren't ace pilots still can help out their team. Fighter Squadron is definitely for everyone, and you'll feel right at home if you're a fan of the Star Wars starfighter battles," says Forsman.
So no matter if you're an ace or rookie pilot, we hope you'll enjoy your time in the air when Fighter Squadron launches with Star Wars Battlefront on November 17th.
For more information on "Star Wars: Battlefront", check out all of our Xbox One coverage via the Xbox One Games database and don't forget to follow us on Twitter, Google+, YouTube and Facebook for all of the latest Xbox One news, upcoming Xbox One games, release dates, gameplay videos and trailers, Xbox One Screenshots, Xbox One Achievements and loads more.

Source: here
Xbox One Games: Star Wars: Battlefront

Star Wars: Battlefront Achievements
Most Recent Trailers for Star Wars: Battlefront
Latest Star Wars: Battlefront News & Rumors
This week's games and add-on deals on the Xbox Games Store includes discounts on Ryse: Son of Rome, Battlefield Hardline and Star Wars Battlefront for Xbox One and...

EA announced today that Battle of Jakku, the first expansion pack for Star Wars Battlefront, arrives on December 1st, 2015, first for all those that pre-ordered,...

Watch over 2 hours of new and exclusive Xbox One gameplay footage for EA's Star Wars Battlefront.Get behind the sticks of X-Wings, TIE Fighters, learn...