Star Wars Battlefront Beta Starts Today Oct. 8 on Xbox One, PS4 & PC
Published: Thursday, October 08, 2015Tagged: Xbox Beta, Gaming, Xbox Store, Xbox Live, Xbox One,

EA has announced that the "Star Wars Battlefront" open beta starts today, Thursday, October 8, 2015 at 1PM ET (10 AM PST), free for everyone on Xbox One, PS4 and PC.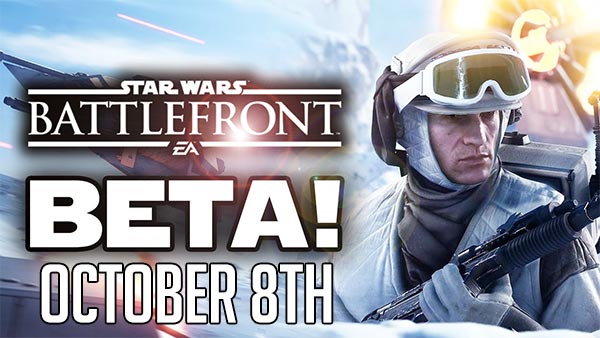 "The #StarWarsBattlefront Beta will open up on Oct 8th 10 AM PST.", tweeted Battlefront community manager
Sledgehammer70.
The
Star Wars Battlefront Beta
is a technical test and will feature Walker Assault on Hoth, a 40-player multiplayer battle featuring Rebels and the Empire. Walker Assault will also give you the chance to play as two of the most iconic characters in the Star Wars universe: Darth Vader and Luke Skywalker. The
Beta
will also feature our Survival Mission on Tatooine, where you and a Rebel friend must fight back waves of Imperial forces.
The Beta will let you experience three modes spread across three iconic planets including:
Walker Assault on Hoth: Fight in epic 40-player battles as a Rebel to destroy the Empire's onslaught of AT-AT's by calling in Y-wing bombers. Or, side with the Empire and protect your walkers while utilizing their mighty weaponry to crush the Rebel objective.
Drop Zone on Sullust: Escape pods are crashing down and you and your team must fight to control them. With its frantic 8v8 matches, Drop Zone is sure to put your combat and strategy skills to the test.
Survival Mission on Tatooine: Play alone or with a friend via co-op or split-screen as you battle to hold off waves of Imperial forces including AT-ST's, TIE fighters, elite stormtroopers and more.
The Star Wars Battlefront Companion experience will also be available during the beta.
Star Wars Battlefront Beta Start Times:
UK: 3 PM (15:00)
Perth, Australia: 4:00 PM (16:00) (October 9th)
Sydney, Australia: 7:00 PM (19:00) (October 9th) (AEST)

New Zealand: 9:00PM (October 9th)
US East: 1:00 PM (13:00)
US Central: 12:00PM Noon
Canada West Coast/US West Coast: 10:00 AM
Germany: 3:30 PM (15:30)
France: 4PM (16:00)
India: 1:30 PM (13:30)
Korea: 4:00 PM (16:00) (October 9th)
Poland 4:00 PM (16:00)
Finland 5:00 PM (17:00)
Dubai 6:00 PM (18:00)
Romania 5:00 PM (17:00)
Denmark 4:00 PM (16:00)
Bulgaria 5:00 PM (17:00)
The
Star Wars Battlefront beta
weighs in at 7.27 GB on Xbox One and PlayStation 4 and 11 GB on PC. Search for the "battlefront beta" using the Xbox One dashboard and download now!
Developed by DICE and published by Electronic Arts, Star Wars Battlefront will be available on November 17, 2015 in North America, November 18, 2015 in Europe and November 19, 2015 in Australasia. The Star Wars Battlefront Beta will be available for Xbox One, PlayStation 4 and on PC via Origin players between October 8 and October 12.
For more information on the game, check out all of our Xbox One coverage via the
Xbox One Games database
and don't forget to follow us on Twitter, Google+, YouTube and Facebook for all of the latest
Xbox One news
,
upcoming Xbox One games,
release dates
,
gameplay videos and trailers
,
Xbox One Screenshots
,
Xbox One Achievements
and loads more.
Size: 7.27 GB
Xbox One Download:
here
Xbox One Games:
Star Wars Battlefront
Star Wars: Battlefront Achievements
Most Recent Trailers for Star Wars: Battlefront
Latest Star Wars: Battlefront News & Rumors
This week's games and add-on deals on the Xbox Games Store includes discounts on Ryse: Son of Rome, Battlefield Hardline and Star Wars Battlefront for Xbox One and...

EA announced today that Battle of Jakku, the first expansion pack for Star Wars Battlefront, arrives on December 1st, 2015, first for all those that pre-ordered,...

Watch over 2 hours of new and exclusive Xbox One gameplay footage for EA's Star Wars Battlefront.Get behind the sticks of X-Wings, TIE Fighters, learn...
Rate This Article
Average Score: 5





Votes: 2