Star Wars Battlefront: Over 2 Hours Of Exclusive Multiplayer Gameplay
Published: Friday, November 20, 2015Tagged: Gaming, Xbox Store, Xbox Live, Xbox One

Watch over 2 hours of new and exclusive Xbox One gameplay footage for EA's Star Wars Battlefront.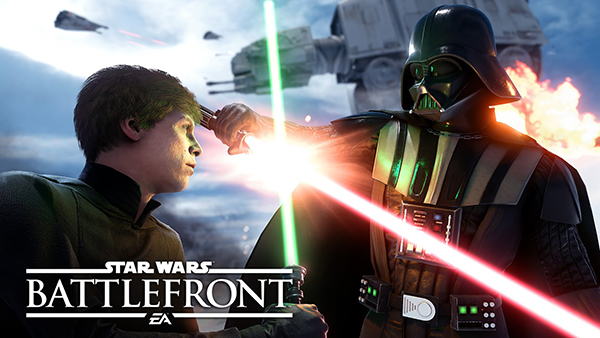 Get behind the sticks of X-Wings, TIE Fighters, learn more about the special abilities of your favorite Heroes/Villians, and experience the epic 40 player multiplayer battles in Walker Assault as we play EA's Star Wars Battlefront. Subscribe to XONEHQ on YouTube!
Star Wars Battlefront Walker Assault Gameplay (40 Players)
As the Empire, you must accompany AT-AT walkers as they march towards the Rebel base to destroy it. And as a Rebel, you must do everything you can to stop them.
Star Wars Heroes vs Villains Gameplay (10 Players)
Today in Star Wars Battlefront we play this awesome gamemode! Heroes vs Villains features short, intense rounds where iconic Star Wars characters clash in dynamic fights.
Star Wars Battlefront Fighter Squadron Gameplay (20 Players)
Head to the skies in X-Wings, TIE Fighters, and Hero Starfighters with up to 20 players. AI-controlled ships join the battles, giving players an intense, action-packed experience.
Star Wars Battlefront Boba Fett Gameplay - Walker Assault Jundland Wastes
With his customized Mandalorian armor, deadly weaponry, and silent demeanor, Boba Fett is one of the most feared bounty hunters in the Star Wars galaxy. Check out our exclusive Boba Fett Gameplay in full HD!
Star Wars Battlefront Forest Moon of Endor Gameplay
Star Wars Battlefront brings the forest moon of Endor to life with an amazing combination of real-time lighting effects and superb graphics. Check out this exclusive full length Gameplay on Forest Moon of Endor in Full HD 1080p (60fps).

Star Wars Battlefront Battle of Jakku DLC Turning Point Multiplayer Gameplay
Experience the events that created the massive, battle-scarred landscape of Jakku shown in Star Wars: The Force Awakens. Turning Point mode portrays the efforts of the Rebel Alliance to defeat the Empire following the Battle of Endor.
I know, I know, I said over 2 hours. Well, we have more videos uploading right now, it's just taking a little longer than we expected, so hang tight. Just in case you forget, here's a direct link to our YouTube Playlist for Star Wars Battlefront.
Star Wars Battlefront is available worldwide for the Xbox One, PlayStation 4 and PC. For more information on the game, check out all of our Xbox One coverage via the XBOX One games database right here on XONEHQ, and don't forget to subscribe for more Battlefront videos via XONEHQ YouTube.
If you enjoyed our videos, hit that like button and don't forget to comment, share and subscribe to XONEHQ on YouTube for our next bunch of High Definition Battlefront videos.

YouTube: XONEHQ
XONEHQ Games: Star Wars Battlefront
Star Wars: Battlefront Achievements
Most Recent Trailers for Star Wars: Battlefront
Latest Star Wars: Battlefront News & Rumors
This week's games and add-on deals on the Xbox Games Store includes discounts on Ryse: Son of Rome, Battlefield Hardline and Star Wars Battlefront for Xbox One and...

EA announced today that Battle of Jakku, the first expansion pack for Star Wars Battlefront, arrives on December 1st, 2015, first for all those that pre-ordered,...

Star Wars Battlefront is now available at retail and via digital download in North America for Xbox One, PlayStation 4, and on Origin for PC.Prepare to be...
Rate This Article
Average Score: 4.76





Votes: 21